Lois Steinberg Online Session(with Japanese translation)
~Intermediate and above level practice of Iyengar Yoga~
January 9th, 10th, 11th, 2021
We are honored to host one of the most experienced senior Iyengar Yoga teachers Lois Steinberg from Champaign-Urbana, USA. We are very excited to welcome her to our special Online Session. This will be the first time for Lois to teach for Asia. This special Session is recommended for Intermediate and above level Iyengar Yoga practitioners.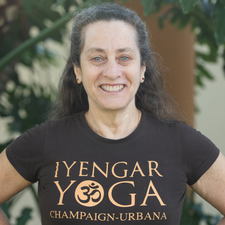 About Lois Steinberg:
Lois Steinberg (Ph.D., CIYT, Advanced 2, C-IAYT) is one of the world's most experienced yoga instructors awarded the Advanced 2 certification by B.K.S. Iyengar himself. She has four decades of extensive studentship with the Iyengars at the Ramamani Iyengar Memorial Yoga Institute in Pune. Lois is the director of Iyengar Yoga Champaign-Urbana in Illinois. She is the author of numerous books and articles. She served on the IYNAUS board and the Certification Committee and continues to serve as an assessor.
 Lois Steinberg official web site
Dates:
Jan 9th, 2021  9:00am-11:30am(JST) GMT+9:00
Jan 10th, 2021  9:00am-11:30am(JST) GMT+9:00
Jan 11th, 2021  9:00am-11:30am(JST) GMT+9:00
Costs:
11,000 JPY (approx. $105 USD) - all 3 sessions
Recordings will be available for participants for 10 days after session.
Level:
2 years or more Iyengar Yoga experience, required to be able to do Salamba Sirsasana and Salamba Sarvangasana or know alternatives
Props needed:
a yoga mat
enough blankets for shoulder balance 
a yoga or home chair
2-3 bricks 
How to register:
Please email: info@yoga-dipika.com for registration. After getting a payment information, please make a payment for the session.
After the confirmation of your payment, we will send you a Zoom link on January 7th, 2021.
About cancellation:
If you cancel your registration before we send you a Zoom link, we will refund the amount after deducting the transfer fee.
No refunds will be given after sending the Zoom link.
Session will be conducted using Zoom. Please install the Zoom software in advance and be sure to check in with your name in English.
If you have any questions, please contact: info@yoga-dipika.com